UTAH BANKERS ASSOCIATION
The Utah Bankers Association is the professional and trade association for Utah's commercial banks, savings banks and industrial loan corporations. Established in 1908, the UBA serves, represents and advocates the interests of its members, enhancing their ability to be preeminent providers of financial services.
learn more

YOUNG & ASSOCIATES INC.
Young & Associates, Inc. is a team of management consultants who provide consulting, outsourcing, and educational services to community financial institutions nationwide and overseas. We offer a wide array of products and services, covering all the major areas of banking, such as risk management, capital planning, strategic planning, mergers and acquisitions, internal audit, branching and expansion, loan review, information technology, human resources, marketing, and regulatory compliance.
learn more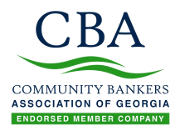 COMMUNITY BANKERS ASSOCIATION OF GEORGIA
The Community Bankers Association of Georgia (CBA) was created in 1969 as a way to pool community bank resources for political representation. Today, the Association has approximately 200 community bank members who utilize four main areas of service: Education, Networking, Group Purchasing and Political Affairs.
learn more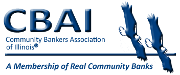 COMMUNITY BANKERS ASSOCIATION OF ILLINOIS
The mission of the Community Bankers Association of Illinois is to provide its members a competitive edge by effectively aggregating political, economic, and marketing power. The CBAI is dedicated to keeping community banks competitive for the benefit of their customers and the communities they serve through delivery of quality education, effective political representation, and essential products and services.
learn more